LOTRO: Lord of the Rings RPG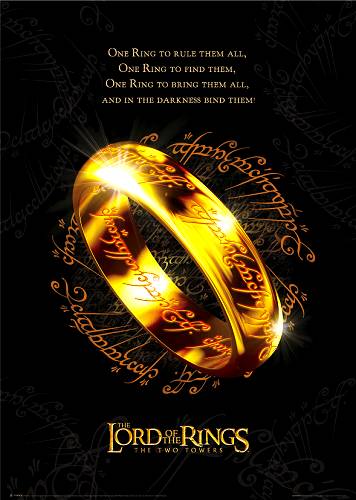 One ring to rule them all
---
the Dark Lord Sauron forges the Ruling Ring in Mount Doom in his land of Mordor. After defeating Sauron in battle, the man Isildur cuts off Sauron's ring and claims it for himself. Isildur is later killed by Orcs, and the Ring is lost in the river Anduin. Over two thousand years later, the Hobbit Déagol finds the ring while fishing with his cousin Sméagol (usually called Gollum). Gollum then kills Déagol for the Ring and keeps it for nearly five hundred years before losing it, whereupon Bilbo Baggins finds it. Meanwhile Sauron, who is not really dead, reoccupies Mordor. Gollum sets out in search of the Ring, but is captured near Mordor and interrogated by Sauron, who learns of its finding by Bilbo. Gollum is set loose to continue hunting but is caught by Aragorn, Isildur's heir, and imprisoned by the Elves in Mirkwood. Meanwhile, Sauron sends forth his fearsome servants, the Ringwraiths, to seize the Ring which Sauron needs to regain his full power
Plot:
This will start with everyone in their area etc....the shire, gondor/rohan, rivendell, or thorin's hall, or mordor if you're an orc this will depend on what race you choose to be, the person who will be the carrier of the ring will come from the shire. as one group we must together travel to the mountain of doom to throw the ring into the fire. not everyone will start in the same area but you will have to travel to the four different areas to get together your group.
Rules:
1. BE nice to people
2. you may be characters from the story doesnt matter to me if ya are or not
3.
lotro: the deleted scenes
<-----all sex goes here thank ya sai
4. please put your character where its suppose to
5. if ya have any questions please refer to the owner and 3 co-owners
Owner: [
Ritsuka-Kun
]
Co-owner 1: [
Tis gone but never gone
]
Co-owner 2: [
GlassCasket
]
Co-owner 3: [
wolvie
] [
she's not on at the moment
]
6. when making a character use this:
Ep Name:
Name:
Age:
Race: [
if a human please specify if you're from rohan or gonder ex: lisa of gondor
]
Description: [
if you use a pic please specify
]
Personality:
Occupation:
Power: [
err if you're an elf what can your elf do if you're not an elf just put n/a
]
Reason: [
why are you deciding to help or hinder the group from destroying the ring
]
Affliation: [
fellowship or sauron's side
]
Other info: [
if there is anything you've felt i missed that you deem important
]
7. if not rping please use regular talk with [] or {} thank ya
8. dont be all butt hurt if this doesnt follow lotro exactly its just an rp and is meant for fun that is all
---
Characters:
If you're an Elf your character goes here:
Elves of Rivendell
If you're a Dwarf your character goes here:
Dwarfs of Thorin's Hall
If you're a Human your character goes here:
Men of gondor/rohan
If you're a Hobbit your character goes here:
Hobbits of the Shire
If you're an Orc your character goes here:
Orcs of Mordor
Put your character below

Fellowship
[
Ritsuka-Kun
] -- Arwen of Rivendell & Boromir of Gondor
[
Tis gone but never gone
] -- Raina Argeneau of Rivendell
[
GlassCasket
] Gandalf of somewhere and Legolas of Mirkwood
[
ArtworkA
] Aragon
[
wolvie
] -- Frodo of the Shire
Sauron's Side
[
GlassCasket
] as Sarumon and The Witch King
[
ArtworkA
] as Gollum
[
HeAVenShallBuRN
] as Grom
---