Page name:
The Elven Path Custom Characters
[Logged in view]
[RSS]
2010-07-24 08:48:31
| | | |
| --- | --- | --- |
| # of watchers: 4 | Fans: 0 | D20: 3 |
The Elven Path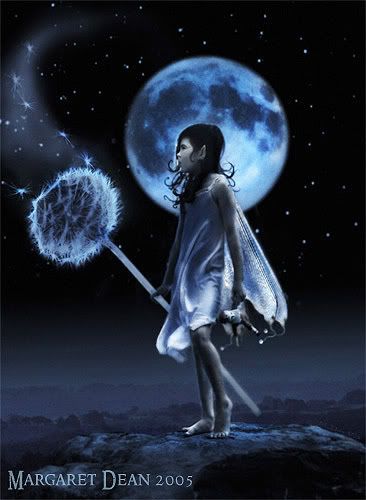 Screen Name:[
Sonya Blue
]
Name:Gina
Age:7
Race:Unknown
Weapon:Small daggers hidden in her dress
Powers:She make objects, plants and animals grow, or shrink, this power does not work on elves, humans, demons, ect. She can also sense when people mean her harm, and can easily tell the difference between an evil or good person, though its not something she cares too much about anyway.
Personality:Ca
lm and collected, she has the mentality of a 30 year old. But she still has a few childish habits.
History:It is unknown, she travels the world alone, only lending her aid where she sees fit. She is interested in the sudden appearance of Kaze, and she wonders what will happen to the world now that he is back. She has not made a decision to help either Kaze or Beth.



wolf form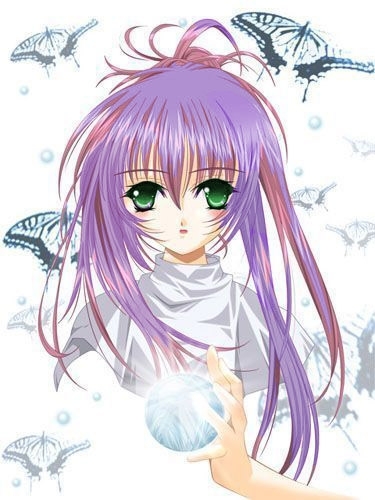 human form
Screen Name:[hinata hyuuga (kimiko)]
Name: alana stree
Age: 19
Race: half human/half wolf
Weapon: teeth, claws, necklace
Powers: necklace...:can heal, blind, take over someones mind
Personality: shy, sweet, temper
History: doesnt remember her history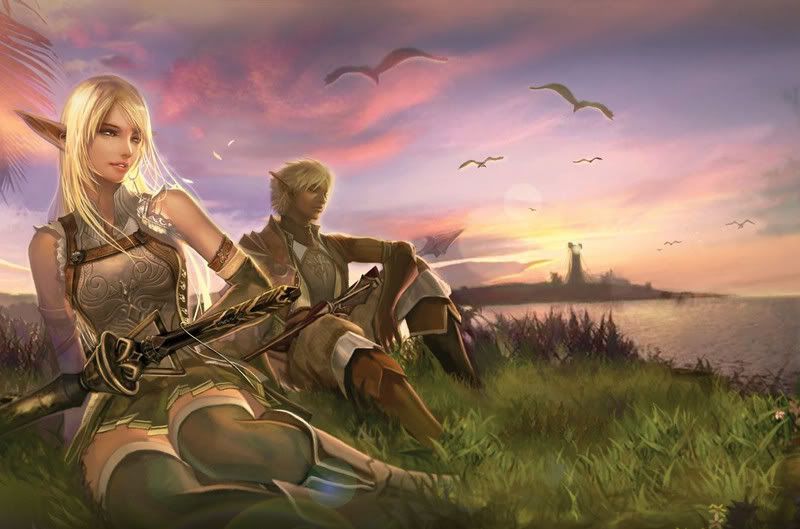 Screen Name: [Fake smiles and Bittersweet kisses]
Name: Melian and Elrohir
Age: 82
Race: elf
Weapon: Swords and Bow
Powers: Melian was born with the gift to calm those around her while Elrohir can surface their greatest fears.
Personality: Melian and Elrohir are total opposites, night and day to the extreme. Melian is calm and caring, soft spoken and not one to start a fight unless cornered. Elrohir on the other hand thrives on violence and chaos, and seems to be fascinated by the suffering and death of others.
History: Elrohir was banished from his small town at a young age after he brutally murdered his mother and father. Having nothing left but her brother Melian went with him, hoping to find out what had caused him to do such a horrible thing. Being twins Melian and Elrohir have a special physic bond, each knows when the other is in trouble. Which usually causes more trouble than help, that is for Melian. Elrohir seems to enjoy her pain more than anything else and rarely lends a hand to help her. Because of their opposites in viewpoints their constantly at each other's throats.






Screen Name: [Strawboy]
Name: Dexiar
Age: 72
Race: elf/human
Weapon: broadsword
Powers: able to jump two stories high, can render himself invisble to most people except those who are extremely acute or posses their own magic
Personality: Dexiar is a very torn person. He greatly hates both elves and humans. He hates humans as his father raped his elven mother and he was the result of that, and hate elves as they treated him and his mother horribly, driving her to suicide. He avoids people most of the time, which is aided by his ability to block others sences. He also uses a broadsword as his weapon as most elves prefer agility and fenese he prefers simple brute force.
History: Dexiar was the result of a rape when a band of humans attacked an elf settlement. Though many elves wished for his mother to abort the child, she refused the idea, saying that it was still her child. This caused the elves to become distant and all together abandon her after the birth. She commited suicide when Dexiar was 12. Dexiar, enraged attacked there leader cutting off his arm with a human broadsword (the one he still wields) before escaping. Now an outlaw amoung elves, Dexiar found little help in humans, who saw his elf blood as disgusting (just as the elves saw his human blood). In the end he decided to live in the forests and wilderness, avioding contact unless nessasary. At age 27 he met his father, who was dying from a disease. Despite his hatred over the way he was birthed, he was able to forgive his father and even became close to him before his death. With the appearence of Kaze Dexiar is torn heavily over what to do. Does he let Kaze create a world of suffering or help fight him and preserve a world that hates him.





Screen Name:[Sonya Blue]
Name:Layla
Age:510
Race:Elven Witch
Weapon:Poison daggers, and magical potions.
Powers:Magic she as claimed to acquired from the gods. Elemental Magic.
Personality:She has a wise and elegant air about her, very soft spoken and easy to get to know.
History:Lived during the time of Elizabeth and Kaze, fought with Elizabeth for a short time, until they became separated. Was the one who taught Elizabeth how to lock Kaze in the locket.





Screen Name: [Away forever, bye]
Name: Andra
Age: 500 but looks 25
Race: Demon
Weapon: Her powers, long staff, sword and fighting skills.
Powers: Demon magic,Molecular Immobilization, Molecular Combustion ,teleportion and Premonition
Personality: Happy-go-lucky, short tempered, caring, helpful and very stubborn.
History: Her family died in s house fire that she caused. So she ran away from her home town and has been traveling ever since. She has been helping people in every town, city or village she gose to.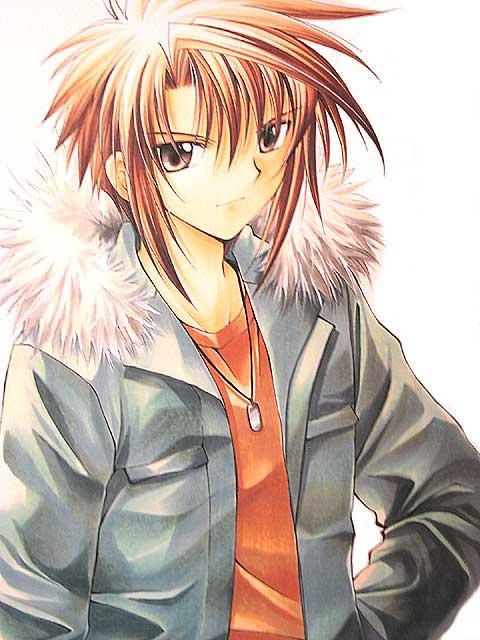 Screen Name: [GlassCasket]
Name: Mariten Garinet
Age: 22
Race: Elven Element Master(person that has total control over all of the elements both basic and complex.)He helps everyone equally.
Weapon: Sword(ice)named Marento, and things he makes from alchemy.
Powers: Elemental alchemy, element control, and martial arts.
Personality: For all of his cold upbringing Mariten has a surprisingly warm aura about him. He easily relates to people. His major flaw is his ;Snap Judgment' about people.
History: Mariten grew up as a loner. His parents were killed by something he does not know of...yet. He is a great swordsman and martial artist. He learned all he knows from his master up in the mountains. His master is still alive and helps Mariten out whenever he needs it. His favorite element is ice since he grew up around it and he knows the harshness of it. Mariten is mostly a traveler. He never really found a place he could 'stick' until he came across a large vessel. The vessel was owned by the famed pirate Dark Cross. Mariten offered his help to Dark Eye and after a long enduring display of Mariten's abilities, he was allowed entry. Dark Eye was never fond of the idea but he always kept a close watch on Mariten. One day Mariten was called down to the captain's room. A lot is said to have happened their but nobody knows the truth but Mariten himself. Some say Dark Eye went mad and thought that killing Mariten would give him astounding powers. Others say that Mariten went mad and killed the Captain. The only known fact is that the sea froze over that day and Mariten put the ship in a massive iceberg. Mariten was seen WALKING back to shore. No one dared approach him for fear of his anger. Every step he took that day, on and off the sea froze the ground or water where his foot landed.

<img.
Screen Name:
Name:
Age:
Race:
Weapon:
Powers:
Personality:
History:



<img.
Screen Name:
Name:
Age:
Race:
Weapon:
Powers:
Personality:
History:



<img.
Screen Name:
Name:
Age:
Race:
Weapon:
Powers:
Personality:
History:



<img.
Screen Name:
Name:
Age:
Race:
Weapon:
Powers:
Personality:
History:



<img.
Screen Name:
Name:
Age:
Race:
Weapon:
Powers:
Personality:
History:



<img.
Screen Name:
Name:
Age:
Race:
Weapon:
Powers:
Personality:
History:



<img.
Screen Name:
Name:
Age:
Race:
Weapon:
Powers:
Personality:
History:



<img.
Screen Name:
Name:
Age:
Race:
Weapon:
Powers:
Personality:
History:



<img.
Screen Name:
Name:
Age:
Race:
Weapon:
Powers:
Personality:
History:



<img.
Screen Name:
Name:
Age:
Race:
Weapon:
Powers:
Personality:
History:



<img.
Screen Name:
Name:
Age:
Race:
Weapon:
Powers:
Personality:
History:



<img.
Screen Name:
Name:
Age:
Race:
Weapon:
Powers:
Personality:
History:



<img.
Screen Name:
Name:
Age:
Race:
Weapon:
Powers:
Personality:
History:



<img.
Screen Name:
Name:
Age:
Race:
Weapon:
Powers:
Personality:
History:



<img.
Screen Name:
Name:
Age:
Race:
Weapon:
Powers:
Personality:
History:



<img.
Screen Name:
Name:
Age:
Race:
Weapon:
Powers:
Personality:
History:



<img.
Screen Name:
Name:
Age:
Race:
Weapon:
Powers:
Personality:
History


---
| | |
| --- | --- |
| | Show these comments on your site |