My newest mate on this site is called [
PhantomStranger
]. Talk to him, he's cool!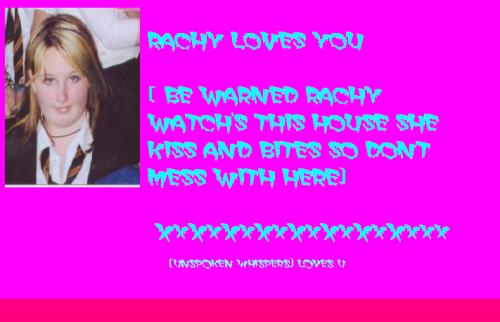 And I love her. She's cool.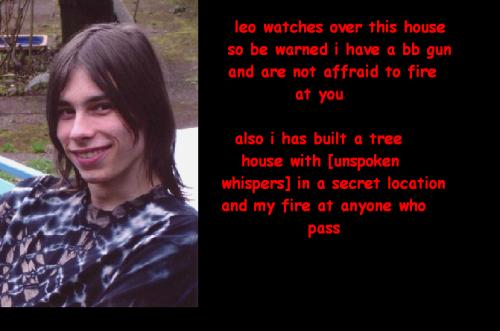 ---
My current poll question:
(none)
---
Well, this is my house. It's called Hades, because I thought that was a funny name. It has very little to do with the Greek Hades.
Take a look if you want to. It's free. I mean, this is not a museum. If I'm in you can knock and talk to me if you want to. If I'm out, you can't talk to me, but I leave the door open, so you can take a look anyway.
Sign on the door: Welcome to Hades
---
Description:
Ok, I've decided to take a chance here, ask me 4 questions. Any 4, no matter how personal, private or random.
I have to answer them honestly. I have to answer them all.
In turn, you post this message in your own journal, wiki, or profile and you
have to answer the questions that are asked of you.
Or go to the wiki Four Questions
- made by [
Aelemar
], but I have put it here as part of doing the above.
---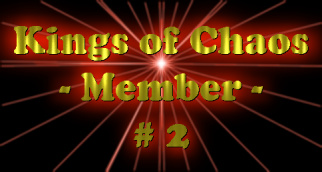 My and [
Dwemer
]'s wiki:
Kings of Chaos

The crisis center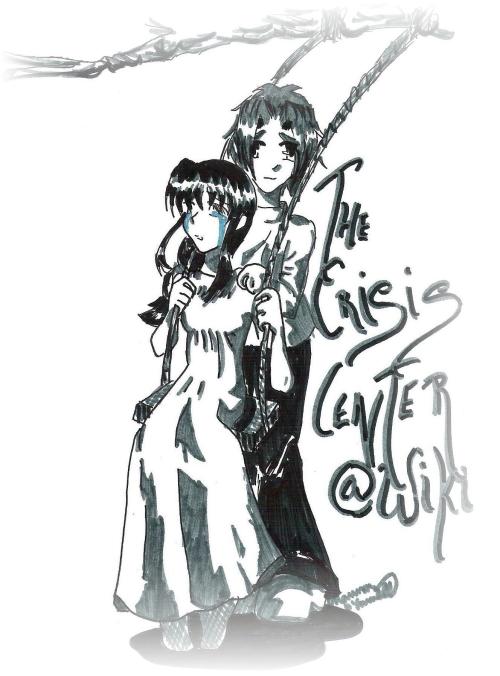 ---
www.snakenetmetalradio.com
---
LAYER ONE
()Name: Leonard
()Nickname: Usually Leo, but sometimes Lee (pronounced 'Lay' in dutch)
()Birthdate: 31 october 1987 (on halloween :)
()Location: Home
()Birthplace: Bergen NH in the netherlands
()Current location: Somewhere else in the same netherlands (near Utrecht)
()Eye color: Brown
()Hair color: Dark brown
()Height: about 1.81m
()Righty of lefty: Lefty
LAYER TWO
()Your heritage: er... dutch?
()The shoes you wore today: Slippers
()Your weakness: Depends on what you call a weakness
()Your fears: A long and boring life (No im not psycho)
()Your perfect pizza: vegetarian one.. dunno
()Goal you'd like to achieve: become a professional actor
LAYER THREE
()Your most overused phrase: really no idea
()Your thoughts first waking up: How fucking early is it?
()Your best physical feature: Think my hair
()Your bedtime: depends on how tired i am
()Your most missed memory: i dunno
LAYER FOUR
()Soda: depends on the moment
()Fast food joint: the snackbar just around the corner
()Single or group dates: Single
()Adidas or Nike: Both not please
()Chocolate or vanilla: Usually vanilla
LAYER FIVE
()Smoke: No sir
()Drink: Sure
()Sing: I love it
()Take a shower every day: oh yea
()Have a crush(es): Yeah
()Do you think you've been in love: Passionately
()Want to go to college: dunno
()Like high school: Fucking no
()Want to get married: Dont care
()Believe in yourself: uh guess so...
()Get motion sickness: Oh no
()Think you're attractive: not extremely, but im probably ok
()Think you're a health freak: no way
()Get along with your parents: most of the time
()Like thunderstorms: love them
()Best movie: hm.. dont really know
LAYER SIX
In the past month...
()Drank alcohol: yep
()Smoked: Not consciously anyway
()Done a drug: Uh yea
()Had sex: no
()Made out: nope
()Gone on a date: no
()Gone to the mall: sort of
()Eaten an entire box or Oreos: Haha no
()Eaten sushi: No
()Been on stage: no, not this month
()Gone skating: no
()Made homemade cookies: not me
()Gone skinny-dipping
: Yeah :)
()Dyed your hair: No
()Stolen anything: no


LAYER SEVEN
Ever...
()Played a game that required removal of clothing: yea, but dont tell me mum
()Been trashed or extremely intoxicated: no
()Been caught doing something: i've been caught doing a lot of things
()Been called a tease: cant remember that
()Got beaten up: not successfully
()Shoplifted: maybe once, perhaps twice
()Changed who you were to fit in: yea and utterly regret it


LAYER EIGHT
()Age you hope to be married: dunno
()Number and names of children: dunno either
()Describe your dream wedding: well see when its time for that
()How do you want to die: suicide (thats not a joke)
()What do you want to be when you grow up: actor o'course. some kind of artist definitely
()What country would you most like to visit: ireland
()Who is your guardian/most loved person: on the moment [~*~Miss Bitch~*~]


LAYER NINE
In a girl...
()Best eye color: really dont care
()Short or long hair: usually long
()Height: dont care
()Best weight: see 'height'
()Best articles of clothing: ?
()Best first date location: metal concert
()Best first kiss location: er... same concert probably


LAYER TEN
()Number of drugs taken illegally: none illegally
()Number of people I could trust with my life: everyone
()Number of CDs that I own: not gonna count them
()Number of piercings: none
()Number of tattoos: none
()Number of times my name has appeared in the newspaper: 3 i think
()Number of scars on my body: about 5 major ones, and countless lesser scars


Gods of Elfpack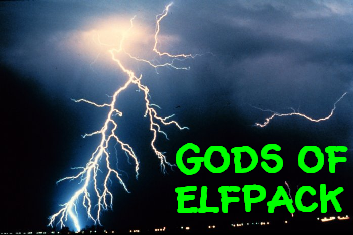 I am the God of Water

Huggers united

Support Gay Marriage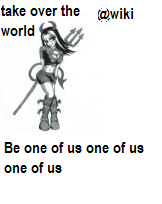 ---


HOW TO PLAY I NEVER.
PUT AN (x) IN FRONT OF THE THINGS THAT YOU HAVE NEVER DONE BEFORE
AND A (_) ON THE THINGS THAT YOU HAVE DONE AT LEAST ONCE. ADD AN "I NEVER" OF YOUR OWN.





I NEVER
(_) I NEVER HAVE BEEN DRUNK
(_) I NEVER HAVE SMOKED POT
(_) I NEVER HAVE KISSED A MEMBER OF THE OPPOSITE SEX
(_) I NEVER HAVE KISSED A MEMBER OF THE SAME SEX
(x) I NEVER CRASHED A FRIEND'S CAR
(x) I NEVER BEEN TO JAPAN
(_) I NEVER RODE IN A TAXI
(x) I NEVER HAD ANAL SEX
(_) I NEVER HAVE BEEN IN LOVE
(x) I NEVER HAD SEX
(x) I NEVER HAVE HAD SEX IN PUBLIC
(X) I NEVER HAVE BEEN DUMPED
(x) I NEVER SHOPLIFTED
(x) I NEVER HAVE BEEN FIRED
(_) I NEVER BEEN IN A FIST FIGHT
(x) I NEVER HAD A THREESOME
(_) I NEVER BEEN SNUCK OUT OF MY PARENT'S HOUSE
(x) I NEVER BEEN TIED UP (SEXUALLY)
(x) I NEVER BEEN CAUGHT MASTURBATING
(_) I NEVER PISSED ON MYSELF
(x) I NEVER HAD SEX WITH A MEMBER OF THE SAME SEX
(_) I NEVER BEEN ARRESTED
(x) I NEVER MADE OUT WITH A STRANGER
(x) I NEVER STOLE SOMETHING FROM MY JOB
(x) I NEVER WENT ON A BLIND DATE
(_) I NEVER LIED TO A FRIEND
(_) I NEVER KISSED MY COUSIN
(_) I NEVER HAD A CRUSH ON A TEACHER
(_) I NEVER SKIPPED SCHOOL
(x) I NEVER SLEPT WITH A CO-WORKER
(x) I NEVER BEEN SKYDIVING
(X) I NEVER HAVE BEEN DUMPSTER DIVING
(_) I NEVER PUT MY PANTS ON MY HEAD RANDOMLY
(_) I NEVER WALKED IN ON FRIENDS HAVING SEX
(_) I NEVER WALKED IN ON MY PARENTS HAVING SEX
(x) I NEVER HAVE BEEN CAUGHT HAVING SEX
(x) I NEVER EGGED A PT CRUISER OR HONDA ELEMENT
(_) I NEVER LIED JUST TO COVER MY OWN ASS
(X) I NEVER CUT SOMEONE AND MADE THEM BLEED
(_) I NEVER FOUND OUT THAT I AM VERY SEXUAL WHEN I GET DRUNK
(_) I NEVER WATCHED PORN (don't do that anymore, its disgusting)
(X) I NEVER DEFECATED ONTO MYSELF
(X) I NEVER MOVED TO A DIFFERENT COUNTRY
(_) I NEVER BE TO A DIFFERNT STATE (make that different country)


---


hAvE yOu eVeR...

1) Dated one of your best friends - No
2) Loved/Liked - Yes
3) Cried - Yes
4) Drank alcohol - Yes
5) Done drugs - Yes
6) Broken the law - Yes
7) Broken a bone - No
8) Cheated on a test - Yes
9) Skinny dipped - Yes
10) Played Truth or Dare - Yes
11) Ridden in a fire truck - Yes
12) Come close to dying - Yes
13) Burned yourself - Not seriously
14) Given someone a piggy back/shoulder ride - Yes
15) Eaten a worm/mud pie - No
16) Stayed up till four on the phone - No
17) Tipped over a port-a-potty - A what?
18) Fell asleep while eating - No
19) Met someone famous - Yes
20) Been in a school play - Yes
21) Cried in public - Yes
22) Seen someone die - Yes
23) Been in a fist fight - Yes
24) Given someone a bruise - Yes
25) Gotten a bruise - Yes
26) Knocked somone out - No
27) Been knocked out - Yes
28) Flipped any vehicles - No
29) Cut someone - No
30) Been cut - Not by anyone but me
31) Burnt any buildings down - No
32) Sex in public - No
33) Mooned someone - What is that?
34) Acted kidnapped in a car - No
35) Flashed someone - No
36) Kicked an ass - Yes
37) Blew something up - No
38) Caught your yard on fire - No
39) Threw a firecracker at someone - No
40) Been in any wars - No
41) Stayed up all night - Yes
42) Slept all day - Yes
43) Watched the sunrise - Yes
44) Rode a motorcycle - No
45) Driven a car - No
46) Wrecked a car - No
47) Gotten a tity twister - Ahum
48) Given a tity twister - Yes
49) Posed for a nude pic- No
50) Been suspended - No
51) Been expelled - No
52) Been arrested - No
53) Been in jail - No
54) Given someone a bath - No
55) Smoked - Yes
56) Bungee jumped - No
57) Made yourself throw-up - No
58) Made yourself cry to get out of trouble? - Yes


---


If you want to, you can message me the answers on these questions:
[

1. Who are you?

]
[

2. Are we friends?

]
[

3. When and how did we meet?

]
[

4. Do you have a crush on me?

]
[

5. Would you kiss me?

]
[

6. Give me a nickname and explain why you picked it.

]
[

7. Describe me in one word.

]
[

8. What was your first impression?

]
[

9. Do you still think that way about me now?

]
[

10. What reminds you of me?

]
[

11. If you could give me anything what would it be?

]
[

12. How well do you know me?

]
[

13. When's the last time you saw me?

]
[

14. Ever wanted to tell me something but couldn't?

]
[

15. Are you going to put this on your house and see what I say about you?

]


---


I see: A computer screen
I need: To cheer up
I find: Bitterness
I want: Love
I have: Nothing, just air around me
I wish: It was holiday
I love: People, although many don't deserve it
I hate: Myself
I miss: Love
I fear: A long life
I feel: Sadness
I hear: A plane flying over my house
I smell: Not, I've got a cold
I crave: Emotional freedom
I search: In vain
I wonder: A lot
I regret: Some of my mistakes

1) name- Leonard
(2) piercings- None
(3) tattoos- None
(4) height- I dunno actually
(5) shoe size- 46
(6) hair color- Dark brown
(7) length- My shoulders
(8) siblings- 2

LAST...
(9) movie you rented- Ocean's 12
(10) movie you bought- Don't remember
(11) song you listened to- You're beautiful by James Blunt
(12) song that was stuck in your head- Zombie by the Cranberries
(13) CD you bought – Don't remember
(14) CD you listened to- Fallen by Evanescence
(15) person you've called- Don't remember
(16) person that's called you – My brother
(17) TV show you've watched- News i guess
(18) person you were thinking of- [~*~Miss Bitch~*~]

DO...
(19) you have a bf or gf- No
(20) you have a crush on someone- *smiles*
(21) you wish you could live somewhere else- Sure
(22) you think about suicide- Yeah a lot
(23) you believe in online dating- Not really
(24) others find you attractive- Some people seem to do
(25) you want more piercings- Dunno. Maybe
(26) you drink- Yeah
(27) you do drugs- Occasionally
(28) you smoke- No
(29) you like cleaning- No only when im in a funny mood
(30) you like roller coasters- Na, not really
(31) you write in cursive or print- Huh?
(32) you carry a donor card- No but I guess I should

FOR OR AGAINST...
(33) long distance relationships- Can be inevitable sometimes
(34) using someone- Ah no. Against! Against!
(35) killing people- Nooo!!!!
(36) teenage smoking- Dunno
(37) premarital sex- For I guess
(38) driving drunk- Not really
(39) gay/lesbian relationship- For, they should have the same rights as straight people
(40) soap operas- Hahaahaha. I don't like them.

FAVORITE...
(41) food- Anything that tastes good.
(42) song- Depends on my mood, but Deliverance is very good.
(43) thing to do- Singing maybe. Dunno actually.
(44) thing to talk about- Music maybe.
(45) sport- Sword fighting/LARP
(46) drink- Beer
(47) clothes- Nothing
(48) movie- Lord of the Rings
(49) band/singer- Dunno. Maybe Opeth
(50) holiday- Love it. Erm, summer, cos that's longest. And Christmas cos I love the winter.

HAVE YOU...
(51) ever cried over a guy/girl- Oh yeah
(52) ever lied to someone- yea
(53) ever been in a fist fight- Yea
(54) ever been arrested- I've come close to it, but no.

NUMBER...
(55) of times I have been in love? I don't count them. And most times were merely crushes.
(56) of times I have had my heart broken? Well I usually break it myself
(57) of hearts I have broken? Not too many I think
(61) of people I would classify as true, could trust with my life? Many. Everyone I hold dear, but I would trust most people with my life
(62) of people I consider my enemies? None anymore. Ive reconciled with the last one
(63) of times my name has appeared in the newspaper? Dunno. Just a couple
(64) of scars on my body? Not sure. I'm not gonna count my minor scars.
(65) of things in my past that I regret? Many, believe me

FAVORITE...
(66) Disney movie- Dunno, many are good.
(67) scent- Car fuel
(68) word (s)- Sing
(69) nickname- I never remember them lol
(70) eye color- Any. Its not really the color that attracts me but usually the texture
(71) flower- Dunno. There are many
(72) piercing- Dunno (original)

DO YOU THINK YOU ARE...
(73) pretty- Perhaps I'm ok, but not very pretty I think
(74) funny- Sometimes
(75) hot- Don't think so, but that's my opinion
(76) friendly- yeah, pretty friendly.
(77) amusing- Some people think so, but I dont really see what's so amusing
(78) ugly- Dunno
(79) loveable- I guess
(80) pessimistic- Often
(81) optimistic- Only on some subjects
(82) caring- Yeah, I think so
(83) sweet- Maybe
(84) asshole- To some people. But not generally. Not like G.W. Bush

RANDOM...
(85) Spell your first name back wards- Dranoel
(86) The story behind your user name- [~*~Miss Bitch~*~] made it up lol
(87) Are you straight? Yes
(88) Where do you live? Netherlands
(89) 4 words that sum you up- Depressed, rpg, Tree house lol, philosophy

DESCRIBE YOUR...
(90) Wallet- It's a blue cookie monster thing with black in it
(91) Hairbrush- I usually use a plain white comb
(92) Toothbrush- White and yellow
(93) Jewelry worn daily- My necklace on a black leather string with a celtic knot
(94) Shoes- Brown large and made for walking
(95) Handbag- Don't have one
(96) Favorite band shirt- There's a Dimmu Borgir shirt that I like, but it's not in my possession
(97) CD in stereo right now- None I think. That thing doesn't work very well anymore.
(98) What you are wearing now- Blue shirt, yellow t-shirt and black jeans.
(99) Hair- Well its dark brown and it's a bit long
(100) Make up- None :)

WHO or WHAT (was/is/are)-
(101) In my mouth- Nothing that doesn't belong there
(102) In my head- Too much
(103) Wishing- My house was already there
(104) After this- Make homework
(105) Talking to- No one
(106) Eating- Nothing
(107) Fetish- Dunno
(108) Person you wish you were with- There are more than one
(109) Something you're looking forward to in this up coming month- Next monday, party of some friends
(110) Something that you are deathly afraid of- Living a long life
(111) Do you like candles- Love em
(112) Do you like the taste of blood- Yeah, I guess so.
(113) Do you believe in love- Sure
(114) Do you believe in soul mates- Dunno. I guess so
(115) Do you believe in love at first sight- Dunno
(116) Do you believe in God- Depends on how you define it


---
Are you strange?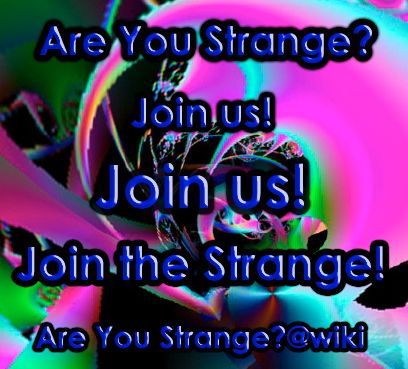 Adrieanna's fan club
Chronicles of the Cursed Sword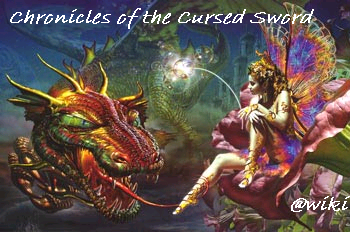 ---


Sociability ||| 9%
Aggressiveness ||| 6%
Assertiveness ||| 2%
Activity Level ||||||||||||||||||||||||||||||| 99%
Excitement-Seeking |||||| 11%
Enthusiasm |||||| 11%
Extroversion ||||||||| 23%
Trust ||||||||||||||||||||||||||||||| 97%
Submissiveness |||||| 17%
Altruism |||||||||||| 31%
Cooperation ||||||||||||||||||||||||||||||| 93%
Modesty |||||||||||||||||||||||| 79%
Sympathy |||||||||||||||||||||||||||| 89%
Accommodation ||||||||||||||||||||| 67%
Confidence ||| 3%
Neatness ||||||||| 21%
Dutifulness ||||||||||||||||||||| 68%
Achievement |||||| 16%
Self-Discipline |||||||||||| 38%
Cautiousness ||||||||||||||||||||||||||||||| 94%
Orderliness |||||||||||| 40%
Anxiety |||||||||||||||||| 59%
Volatility |||||||||||||||||| 57%
Depression |||||||||||||||||||||||||||| 88%
Self-Consciousness |||||||||||||||||||||||||||| 87%
Impulsiveness |||||||||||||||||||||||||||| 84%
Vulnerability |||||||||||||||||||||||| 78%
Emotional Stability ||||||||| 25%
Imagination |||||||||||||||||||||||||||| 86%
Artistic Interests |||||||||||||||||||||||||||| 81%
Introspection |||||||||||||||||||||||| 72%
Adventurousness ||||||||| 29%
Intellect |||||||||||||||||| 53%
Liberalism |||||||||||||||||||||||||||| 82%
Openmindedness ||||||||||||||||||||| 67%

BASICS
[

Name:

] Leonard
[

Do you like it

]: It's ok.
[

Nicknames

]: i´m not gonna tell you
[

age:

] 17, 11 months and 1 day
[

Birthday

]: 31 october (halloween!)
[

sign:

] sign? what kind of sign?
[

Location

]: at home. netherlands
[

school:

] blaucapel its called
[

Status

]: status of what?
[

Crush

]: i have one
[

Natural hair color

]: brown
[

Current hair color

]: brown
[

Eye color

]: brown
[

Shoe size

]: 46
[

Height:

] dunno exactly
[

Grade

]: 6th


FAMILY
[

Parents

]: mum and dad
[

Siblings

]: younger brother and sister
[

Favorite relative

]: dunno. i love them all


BODY
[

What do you most like about your body

]: my hair lol
[

And least

]: the other things
[

How many fillings do you have

]: don't remember
[

Do you think you're good-looking

]: nah not that much
[

Do other people often tell you that you're good-looking

]: on ep they do :)


FASHION
[

Do you wear a watch

]: no
[

How many coats and jackets do you own

]: 2
[

Most expensive item of clothing

]: dunno and don't care
[

What kind of shoes do you wear

]: walking shoes


FAVORITES
[

Number:

] 23
[

color:

] dunno. black maybe?
[

Day:

] saturday
[

Month:

] december maybe
[

song:

] ghost of perdition by Opeth
[

movie:

] lord of the rings i think
[

Food:

] dunno. anything that tastes good
[

season:

] winter
[

sport:

] larp :P
[

store:

] dunno
[

Drink:

] beer


THIS OR THAT
[

Coke/Pepsi

]:they both taste the same
[

Day/Night

]: night
[

CD/Cassette

]: CD
[

DVD/VHS

]: both
[

Jeans/Khakis

]: anything
[

Car/Truck

]: none
[

Lipstick/Lipgloss

]: lol im not a girl
[

Silver/Gold

]: silver


OTHER
[

Favorite Artist ever

]: Opeth
[

Most listened to bands

]: Opeth
[

Type of music listened to

]: metal
[

Type never listened to

]: ive listened to everything
[

Favorite book

]: anything by Tolkien and Terry Pratchett and the Death Gate Cycle books