Description:
this is my boyfriend, he is my sexy beast, it was taken tonight, he was talking to me YAY!!! he is my morning woody. I love u baby, this poem is to you.
I have written this poem to explain these feelings I have for you though words scarcely cover the true depth of my emotions. I wanted to say that I miss you and love you with all my heart. Happy valentines day.               
       Yours forever

I was made just for you
Without you I am thrown askew
Thrashed against the cliffs
By an unforgiving tide
My feelings for you I will never hide
Without you I am not whole
You complete me body and soul
My love for you will last past the end
That no god's can break or bend
I would sacrifice everything for your bliss
Oh how I long for your kiss
Till then I shall wait
For it is you
You mean the world to me
that's a fact I beg and plead that you see
There is no other
Their never will be
You are the one meant for me
I long for your touch
I long for your kiss
Oh how much of you I miss
There is but one other way
For me to say
How I feel for you
Just like the beauty of a dove
Eternity is not enough time to express my love
I long to hold you in sight of my eyes
I love you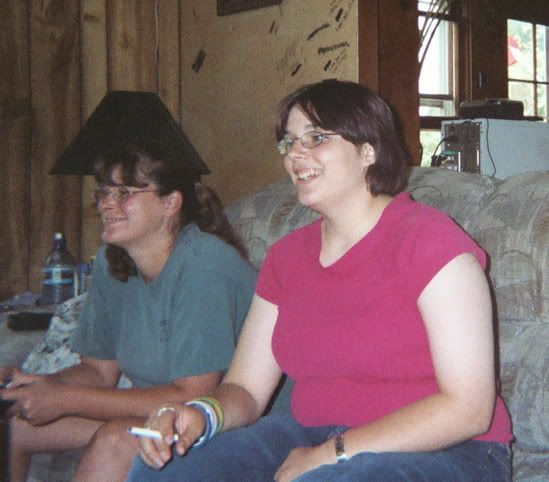 this is me and my mother i lost alot of weight since then i was pregnant there.




this is my son Evan he will be 2 in october. I love u Evan!!





"Cut" I did this one when I was 12


I am feeling blue today
Just the same ad yesturday
I don't know where to go
I don't know what to do,
but there is a knife in front of me shiny and new.
I pick it up
I start to cut
I yell dad look what u made me do.
I don't feel special
I don't feel good
You hate me because I didn't turn out they way that I should.
I cut another and another, deeper and deeper.
I fall to my knees,
I hear the rattling of keys.
I tried to make a sound, but I can't
The drips down my arm now, on to my pant.
You call out my name, but I never came.
I can't move, Oh God what did I do?
I don't want to die yet, not yet. PLease God not yet.
I can hear you walking towards the dorr,
I am on the floor, my eyes are getten heavy,
my head is getting weak.
I hear the dorr open with a creak, you see me laying on the floor knife in my hand tired and weak.
U try to slap me to get me conscience, But I don't react.
I hear you say, what have u done.
But now it is too late, now i am gone.





[

†ForsakenAngel†

] : this guy is so cool u mess with him i will kick ur uppdy ass until hell won't have it again!!

[Freak in the Corner] I love u Nick so much u are so sweet! If u mess with him I will rip out ur heart and eat in front of u before u die!!

[

xXxHeavenly DemonicxXx

]this is my sis she is so awesome!! i love her so much.. she is sweet and a great person to talk to. <3 you sissy.

"Too often, we lose sight of life's simple pleasures. Remember, when someone annoys you, it takes 42 muscles in your face to frown, BUT, it only takes 4 muscles to extend your arm and bitch-slap that motherfucker upside the head.

X means have not done it

(_) I NEVER HAVE BEEN DRUNK
(_) I NEVER HAVE SMOKED POT
(_) I NEVER HAVE KISSED A MEMBER OF THE OPPOSITE SEX
(_) I NEVER HAVE KISSED A MEMBER OF THE SAME SEX
(x) I NEVER CRASHED A FRIEND'S CAR
(x) I NEVER BEEN TO JAPAN
(x) I NEVER RODE IN A TAXI
(_) I NEVER HAD ANAL SEX
(_) I NEVER HAVE BEEN IN LOVE
(_) I NEVER HAD SEX
(_) I NEVER HAVE HAD SEX IN PUBLIC
(_) I NEVER HAVE BEEN DUMPED
(_) I NEVER SHOPLIFTED
(x) I NEVER HAVE BEEN FIRED
(_) I NEVER BEEN IN A FIST FIGHT
(_) I NEVER HAD A THREESOME (i did the other day!)
(_) I NEVER BEEN SNUCK OUT OF MY PARENT'S HOUSE
(_) I NEVER BEEN TIED UP (SEXUALLY)
(x) I NEVER PISSED ON MYSELF
(_) I NEVER HAD SEX WITH A MEMBER OF THE SAME SEX
(x) I NEVER BEEN ARRESTED
(_) I NEVER MADE OUT WITH A STRANGER
(_) I NEVER STOLE SOMETHING FROM MY JOB
(_) I NEVER WENT ON A BLIND DATE
(x) I NEVER LIED TO A FRIEND
(x) I NEVER HAD A CRUSH ON A TEACHER
(_) I NEVER SKIPPED SCHOOL
(x) I NEVER BEEN SKYDIVING
(x) I NEVER HAVE BEEN DUMPSTER DIVING
(_) I NEVER WALKED IN ON FRIENDS HAVING SEX
(_) I NEVER WALKED IN ON MY PARENTS HAVING SEX
(_) I NEVER HAVE BEEN CAUGHT HAVING SEX
(_) I NEVER LIED JUST TO COVER MY OWN ASS
(_) I NEVER CUT SOMEONE AND MADE THEM BLEED
(x) I NEVER TOLD SOMEONE I LOVED THEM JUST TO MAKE ME OR THEM FEEL BETTER OR LIED ABOUT LOVING SOMEONE PERIOD
(_) I NEVER EGGED A RANDOM CAR
(_) I NEVER BEEN TO A DIFFERENT COUNTRY
(_) I NEVER BEEN IN THE BACKSEAT OF A POLICE CAR
(_) I NEVER EGGED A RANDOM HOUSE
(_) I NEVER BEEN EXPELLED/SUSPENDED
(x) I NEVER CHEATED ON MY BOYFRIEND/GIRLFRIEND


Little Mary was not the best student in Sunday School. Usually she slept through the class. One day the teacher called on her while she was napping, 'Tell me, Mary, who created the universe '


When Mary didn't stir, little Johnny, an altruistic boy seated in the chair behind her, took a pin and jabbed her in the rear. 'God Almighty !' shouted Mary and the teacher said, 'Very good' and Mary fell back to sleep.


A while later the teacher asked Mary, 'Who is our Lord and Savior ' But Mary didn't even stir from her slumber. Once again, Johnny came to the rescue and stuck her again. 'Jesus Christ ' shouted Mary and the teacher said, 'Very good,' and Mary fell back to sleep.


Then the teacher asked Mary a third question, 'What did Eve say to Adam after she had her twenty-third child ' And again, Johnny jabbed her with the pin. This time Mary jumped up and shouted, 'If you stick that damn thing in me one more time, I'll break it in half '


The Teacher fainted.



this is my friend Nick. I love him so much he is so sweet and understanding. don't change hun.

I wanna give you a hug but,
a hug leads to a kiss,
a kiss leads to a lick,
a lick leads to a suck,
and a suck leads to a fuck.
hmm... wanna hug?!

this is really sweet i hope i have a guy that does this.

[12 Ways To Get To A Girls Heart--
1. Hug her from behind.
2. Grab her hand when you guys walk next to each other.
3. When standing, wrap your arms around her.
4. Cuddle with her.
5. Dont force her to do ANYTHING!
6. Write little notes.
7. Compliment her.
8. When you hug her, hold her in your arms as long as possible.
9. Say I love you.....and MEAN IT!
10. Brush the hair out of her eyes
11. Comfort her when she cries.
12. Love her with all your heart
Girls-Repost this if you think its sweet.
Guys- Repost this if you would do any of it]


[~!*22 Ways To Make A Girl Smile*!~



1 . Tell her she is beautiful (not fine, or sexy)



2 . Hold her hand at any moment . . . even if its just for a second.



3 . Kiss her on the forehead.



4 . Leave her voice messages to wake up to.



5 . When she is upset, hold her tight and tell her how much she means to you.



6 . Recognize the small things . . . they usually mean the most.



7 . Pick her over all the other girls you hang out with.



8 . Write her notes. (she loves them)



9 . Introduce her to family and friends . . . as your girlfriend.



10 . Play with her hair.



11 . Pick her up, tickle her, and play-wrestle with her.



12 . Sit in the park and just talk to her.



13 . Tell her funny jokes, tell her stupid jokes, or just tell her jokes.



14 . Let her fall asleep in your arms.



15 . If she's mad at you, kiss her.



16 . Give her piggyback rides.



17 . Bring her flowers



18 . Treat her the same around your friends as you do when your alone.



19 . Look her in the eyes and smile.



20 . Let her take as many pictures of you as she wants.



21 . Kiss her in the rain.



22 . If your in love with her . . . tell her.]

Find a guy who calls you beautiful instead of hot,
who calls u back when u hang up on him,
who will lay under the stars and listen to ur heartbeat,
or will stay awake just to watch u sleep...
Wait for the guy who kisses ur forehead,
who wants to u show u to the world when u are wearing sweats,
who holds ur hand in front of his friends,
who think that u are beautiful with out make-up,
one who is constantly reminding u of how much he cares
and how lucky he is to have u..
the one who turns to his friends and says, "that's her"*

One night a guy & a girl were driving home from the movies. The boy sensed there was something wrong because of the painful silence they shared between them that night. The girl then asked the boy to pull over because she wanted to talk. She told him that her feelings had changed & that it was time to move on. A silent tear slid down his cheek as he slowly reached into his pocket & passed her a folded note. At that moment, a drunk driver was speeding down that very same street. He swerved right into the drivers seat, killing the boy. Miraculously, the girl survived. Remembering the note, she pulled it out & read it. "Without your love, I would die."