Description: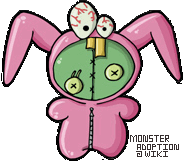 Lookie! It's a gorey bunny!!
Monster Adoption
.Ask Me 4 Questions.
1.
2.
3.
4.
I will answer them no matter how pointless, rude, or just silly they are but, only if i may ask you 4 questions as well.


Hello.
Please don't ask me if I will cyber. I WILL not cyber. I have a girlfriend and a best friend for that XP!
I'ma BIG Manga fan, my current obession...DEA
TH NOTE. Soon will be Absolute Boyfrined Volume 2. HAHA, I'm hyper and evil.

I'm allergic to really bad Yaoi roleplays and really whorey people. I have a deviantart, which doesn't have alot of crap on it other than some poems and soon to ahve a Death note Fanfiction on there!

Link here: http://barbie-on-botox.deviantart.com

enjoy it!

[Ran] is my best friend on here. LOVE HER!!
[MyLovely BrokenHeart] I haven't known her long but she's cute *blush* HAHAHA!
[Dr.M] OMGEE it's Mantle!!! I lurve joo babe. He's pretty cool. He has helped me out alot with alot of things in my life.