---
Slideshow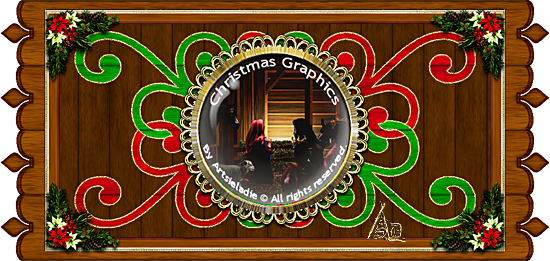 Under construction.
Note: This page may get quite large from time to time when more Christmas themed graphics are added until they are placed on their respective sub-pages.


Greetings!
Welcome to the main index page for showcasing my "new" Christmas graphics. All
my "new" graphics' around this same theme will be indexed under THIS wiki-page.

All graphics I display on this site are MY creations, which means "I" OWN the rights
to them, NOT this site's owner OR anyone else, unless otherwise specified, which
also means, to use ANY "my" permission MUST BE GRANTED!



Please see also:

Total Christmas Images: 91

Table Of Contents

Newest Images:
More to come. Just moved many from this page to their corresponding pages. Please refer to the Table of Contents just above.

Credits:
Graphics/art created by Artsieladie, aka Sharon Donnelly ©2013 All rights reserved.
About the usage and sharing of my creative works, please read:






For members: DONATE to Elfpack --> <URL:donate.html>, so...


- You can enjoy using Pseudo_HTML colours in your house!


- You can enjoy having the limitations lifted from your house!

For visitors:


- To become a member, click on: http://www.elfpack.com/newuser.html


- Membership is FREE!

Page View Counter:
http://www.hitwebcounter.com/
Artsieladie Online:
Show content


(: Merry Christmas and Happy New Year! :)
~ Additional information ~
Show content
---
The following wiki-pages belong to this index (category):
---
| | |
| --- | --- |
| | Show these comments on your site |