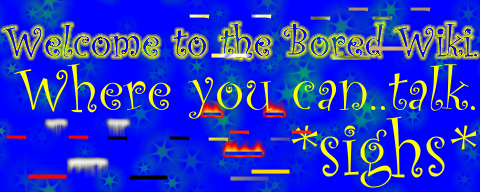 Welcome to the bored wiki , every one is welcome here...if you would like to become a member just go to the link below (bored wiki members )and add you name at the bottom of the list...if you have any questions message me,my username is [deathly ~*~ beautiful] or [FireWing].Thank you.

Rules:
1.no agrueing here (or fighting)
2.dont talk trash about people on here
3.have fun and feel free to talk about whatever
4.dont use this as a debate room there is a forum designed for that..go there instead..
5.YOU CAN GET TEMORARILY BANNED FROM THIS WIKI IF YOU BREAK THE RULES...they are VERY easy to follow...

Owner:[deathly ~*~ beautiful]
Asst. Manager:[FireWing]

Go to bored wiki banners
Go to bored wiki members

Here are some other cool wiki's that I know of...if you have one you'd like to add just let me know...so here they are:
mystic circle -owner:[scarletdeath]
ghost hunters -owner:[THEHOBBITEDONE]
Cutters Poetry-owner:[deathly ~*~ beautiful]
gothicDepression fan club -owner:[Celtore]
bleeding hearts -owner:[Celtore]
People of the Heartagram-owner:[FireWing]
What Love Truely Is-owner:[deathly ~*~ beautiful]

If you have any questions comments or complaints contact me.(Or if you wish Message James @ [
FireWing
])We will be happy to help you or listen to your question comment or complaint.
Ashley
[
deathly ~*~ beautiful
]

---
| | |
| --- | --- |
| | Show these comments on your site |