Description:
highskool student.
i hav a monroe (lip peircing on my top lip)
i love billy talent and alot of other music.
im unique.
dont judge me, az i wont you.
the sayingz above r of the missez below in the pic.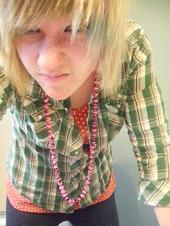 ME ME ME, im Hailey Christine :)
under constuction...
[
________________________________ __XX______ _ _________________________
_______________________ ___________$_________________________________
___ ______________________________X$=_________________ _______________
________________________________= $$X________________________________
_____________ ___________________J$$$___________________________ _____
________XX_____________________X$$$$X______ _________________________
_________YX____________ ________$$$$$$_______________________________
___ ______X$X__________________=$$$$$$X_______________ _______________
_________X$$L=________________X$$ $$$$X___________________=_X________
__________$$$ $$_______________$$$$$$$X_________________=$F_____ _____
__________X$$$$$L____________X$$$$$$$$_____ _________=J$$X___________
__________X$$$$$$$X____ _______$$$$$$$$____________J$$$$X____________
___ ________Y$$$$$$$L_________X$$$$$$$L_________=_$$$$ $$=____________
___________=$$$$$$$$$=_______$$$$ $$$$$________$$$$$$$$=_____________
____________Y $$$$$$$$L=______$$$$$$$$$X_____X$$$$$$$$F_________ _____
_____________$$$$$$$$$$=_____$$$$$$$$$____= L$$$$$$$$F_______________
______________$$$$$$$$$ $=____$$$$$$$$$___X$$$$$$$$$=________________
___ ___________+$$$$$$$$$$X___=$$$$$$$$__J$$$$$$$$$F__ _______________
_______________X$$$$$$$$$$X___$$$ $$$$$_J$$$$$$$$$F__________________
+$$__________ ___X$$$$$$$$$$__$$$$$$$$F_$$$$$$$$$F______________ _____
__=$$$$$$$$_______$$$$$$$$$$_=$$$$$$$$$$$$$ $$$$X____________________
____+$$$$$$$$$$_=__+$$$ $$$$$$_$$$$$$$$$$$$$$$F______________________
___ ___$$$$$$$$$$$$$=YY$$$$$$$_Y$$$$$$$$$$$$$F________ ____==_=_______
_______=$$$$$$$$$$$$$$$$$$$$$$=$$ $$$$$$$$$$=____=_$$$$$$$$$$$$$$$$$X
_________=$$$ $$$$$$$$$$$$$$$$$$$$$$$$$$$$$==_J$$$$$$$$$$$$$$$$$ +=___
___________=$$$$$$$$$$$$$$$$$$$X$$$$$$$$XJ$ $$$$$$$$$$$$$$$$$+=______
_____________=+Y$$$$$$$ $$$$$$$$$$$$$$$YJ$$$$$$$$$$$$$$$$YF__________
___ ______________=$$$$$$$$$$$$$$$$$$$$$$$$$$$$$$$$$$+ +______________
_____________________$J$$$$$$$$$$ $$$$$$$$$$$$$$++=__________________
_____________ __J$$$$$$$$$$$$$$$$$$$$$$$$$$$$$L_=_______________ _____
______________$$$$$$$$$$$$$$$$$$$$$$$$$$$$$ $$$$$$$=_________________
___________J$$$$$$$$$$$ $FYL$$$$$$$F$$$$$$$$$$$$$$$$$L=______________
___ ______J$$$$$$$+F+=___X$$$$$$=$$$_Y$$$$$$$$$$$$$$$$ $$_____________
_______XF+_____________J$$$$$$=_X $$__=$$$$$_=+$Y$$$$$$$$=___________
_____________ _________X$$$+=_____=$X____+$$X________=+++Y$L____ _____
______________________$=__________$X______Y $______________=_________
______________________= ___________XL_______X________________________
___ _______________________________X$_________________ _______________
_________________________________ __$X_______________________________
_____________ ______________________YX__________________________ _____


]