Description:
NO I WON'T CYBER WITH YOU!!!
[
Danny.Doll
] -this woman is amazingly beautiful and I admire her for being strong and still being able to hold her head up and smile. you're my hero Danny!
[
wild_thing
] -Amber- though she doesn't believe me sometimes... she has an awesome personality and I love talking with her.
sometimes... LOVE isn't what it's all cracked up to be, and I guess you only find true LOVE once in a life time... I let mine go.

My boys, sports, and just being my crazy self. always willing to meet and get to know new ppl. im short, athletic looking, long auburn hair, green eyes, and a nice smile.
Duh I'm that damn cool
Cheyanne in all her glory
hey, if you want to see more of me just check me out on myspace.. my URL is:
www.myspace.com/korbi_21
http://elfpack.com/img/image/44485_1162718754.jpg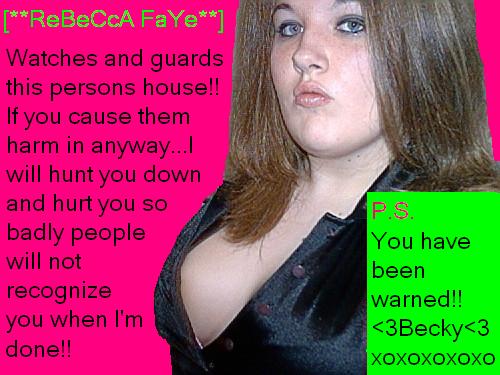 "don't make some one your everything, because when they leave.. you have nothing." -unknown
GUYS ARE SO FUCKING IMMATURE AND NASTY.... THEY DON'T UNDERSTAND WHEN I SAY... I.... DON'T.... WANT..... ANYTHING..... TO.... DO.... WITH... YOU!
SO STOP TALKING TO ME GOD DAMN IT!!!
p.s. if you're already a guy friend to me then ignore this message.