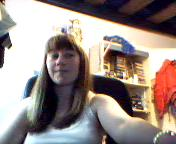 *(`'•.¸(`'•.¸*¤*¸.•'´)¸.•'´)*
»~:¤.•º`• .♥ζιzzιε♥. .•´º•.¤:~«
*(¸.•'´(¸.•'´*¤*`'•.¸)`'•.¸)*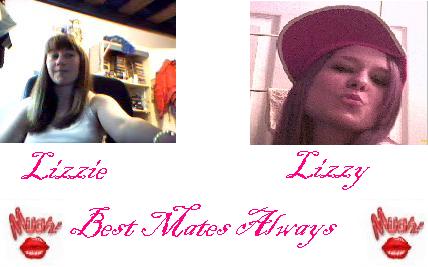 me n lizzy :D:D she's like a sister 2 me luv ya hun, hope ya like it x x x
Elfpack titles and orders
Description: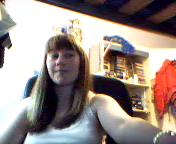 ♥♥♥What i love♥♥♥


♥♥♥


*I love to laugh

♥


*I try to always smile n look on the good side

♥

*I love my friends!!

♥


*I love to shop

♥

*I love chocolate

♥

*I love to sing

♥


*I love it when the sun shines

♥

*I love to sleep on a coach!

♥

*I love movies with happy endings!

♥

*I love whip cream!;);)

♥

*I like to meet new ppl

♥

*I love compliments!

♥

*I love seeing ppl !!

♥

*I love to take pictures!

♥

*I love puppies n kittens!

♥

*I love Eminem









[

..Layer 1..

]
-- Name-Lizzie
-- Name you use:Lizzie
-- Nickname:Lizzie
-- Birthdate:4/6/90
-- Birthplace:Dundee
-- Current location:Dundee
-- Eye color:Blue
-- Hair color:Brown
-- Righty or lefty:Right


[

..Layer 2..

]
-- Your heritage: ??
-- The shoes you wore today:Trianners
-- Your weakness:nittin !!
-- Your fears:Getting old and dyning
-- Goal you'd like to achieve:Being a paramedic(yn)

[

..Layer 3..

]
-- Your most overused phrase:fuckin hell
-- Your thoughts first waking up:Seeing Steven:)(L)
-- Your best physical feature:Tits
-- Your bedtime:wen i want:P
-- Your most missed memory:Being on holiday wiv Nick(U)

[

..Layer 4..

]
-- Soda:Coke
-- Fast food joint:Mcdonalds
-- Single or group dates:Group
-- Adidas or Nike:Nike
-- Chocolate or vanilla:Chocolate
-- Cappuccino or coffee:Cappuccino(omg its the best:D:D)

[

..Layer 5..

]
-- Smoke:Stopped
-- Curse:?
-- Sing:Yeh
-- Take a shower every day:Yep
-- Have a crush(es):Yeah 2 :P;)
-- Do you think you've been in love:Yeh
-- Like high school:Na but ya get a giggle lol
-- Want to get married:dunno reli
-- Believe in yourself:Yeh sumtimes
-- Get motion sickness:Yeh
-- Think you're attractive:No
-- Think you're a health freak?:No
-- Get along with your parents:Yeh sumtimes
-- Play an instrument:Yeh in class DUH lol


[

..Layer 6..

]
In the past Year have you
-- Drank alcohol:OBV
-- Smoked: Nope:)
-- Done a drug:no (JUNKIES)
-- Had sex:;);) no comment:P
-- Made out:Yeh
-- Gone on a date:Yeh
-- Gone to the mall:Yeh
-- Eaten an entire box of Oreos:Yh
-- Eaten sushi:EWWWWW NO
-- Been on stage:Yh
-- Gone skating:No
-- Made homemade cookies:no i cook proper stuff
-- Gone skinny-dipping: no :(
-- Dyed your hair:yeh blonde higlights :D:D
-- Stolen anything:NO!!!!


[

..Layer 7..

]
Ever...
-- Played a game that required removal of clothing:Yh
-- Been trashed or extremely intoxicated:no:
-- Been caught doing something:yh :$
-- Been called a tease:Yeh;)
-- Shoplifted:No
-- Changed who you were to fit in:no thts jst gay
slept with someone wthout having sex: ont sleep wiv ppl i h8 it


[

..Layer 8..

]
-- Age you hope to be married:25
--Decribe your dream wedding:big white wedding thn a honeymood on the Isle of white
--best way 2 die:OMG i dunno-nut painfully
-- What do you want to be when you grow up: Go in the RAF or be a paramedic
--What country would you most like to visit:All the world

[

..Layer 9..

]
In a guy...
-- Best eye color:Bright Blue
-- Best hair color:Brown
--short or long hair:Short n Spikey;)
-- Best weight:dunno but fit;)
--Best articles of clothing:Jeans
-- Best first date location:Cinema;)(Back Row:P)
--Best first kiss location:In his house;) lol

[

..Layer 10..

]
-- Number of drugs taken illegally:No
-- Number of Ex's:2many lol
-- Number of CDs that I own:Loads
-- number of pericings:none
-- Number of tattoos:None yet(yn)
-- Number of scars:eww None
-- Number of things in my past that I regret:erm...Loosing contact wiv Nick n Bling Bling;):D(yn)





[

;) THE LADS ;)

]

[jamesJ] James is really cool i luv this laddy soo much he's sooo sound n sweet n him n Lizzy will deffo last 4 life cos they luv each other soo much luv ya huni ur great x x

[(Timmy)] Timmy is a fukin legend he's sooo cool n sound n omg well fit;) luv ya soo much huni x x x

[BarghyBoi2k7] He's jst wicked like aww he's sweet n jst gd ti talk ti luv ya hun x x

[driverboy] awww scott well gr8 like!! i luv this guy sooo much he's always there to talk to n help ya out aww he's a darlin lol luv ya hun x x

[BillyThePsycho] He's just great and i'll niver ever forget him,gunna miss u like mad billy hope everything is ok and take care huni luv ya x x


[

:DTHE GIRLS:D

]

[debz loves chris!!] My best mate Debz she's gr8,best mate ever like she is so nice jst a lovely girl n i hope me and u are best mates 4 life, luv ya huni x x

[SugaNSpice] Lizzy ya like the sister i niver had i tell u anything n everything!! I'm always here 4 ya hun aww ur so sound n jst a lovely girl lol luv ya huni x x x

[footie chick] gr8 mate reli sound like talk ti her luv ya hun x x

[sexy_fairy] She's great a reli cool guy n is boy mad!! lol talk to her she's a gr8 mate me,u n Iona will av a gr8 laugh !! luv ya huni x x


[beautiful blue eyes] She's like a big sister 2 me she's always there for me wen i need her luv ya huni x x x

[Oo.claire.oO]She's well kool luv her ti bits we dead close xx


[Shivi]Shivi is great i've been reli close 2 her since 2nd year in high skool she's awesome she's reli funny n mad n a gr8 gossiper!! lol luv ya huni x x x

[JaJa] She's sooo sound n well gd ti talk to and we can talk about anything luv ya hun x x

[xXlucy=whore!Xx]she's well sound n seems up fir a laugh talk ti her x x

[K A T E!] reli sound girl like talk ti her she's kool luv ya huni x x

[DanielleLouisex] shes dead sound n tht gd m8 ti talk ti luv ya hun x x x

I got loadz more mates on ere but i cant b bothered puttin them lol!! Luv ya all tho all u guyz n girlz r great on ere n i hope we all keep in touch x x x x




Thts for all my cuties,babies,wee stunners n ma hunnies MWAH!!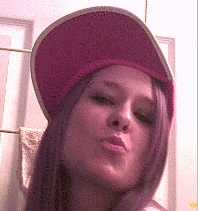 This is Lizzy she's totally top girl like i can talk 2 her about everything she's soo sweet n reli sound like n she's all loved up wiv [jamesJ] aww ent tht soo sweet?? Dont hurt her cos she'll jst get ya bac someday xxx luv ya huni xx


»2°~Tðp Μΰскεяѕ~°6«



♥..!!..Sнιvι и кιяѕту ..!!..♥




Missing: </center>
| | | | |
| --- | --- | --- | --- |
| Age: 15 | Year of birth: 1990 | Month of birth: 6 | Day of birth: 4 |
Place of living:
United Kingdom-Scotland
Exact place of living:
none of ur business
Other interests
chasing the preferred sex
cooking
dancing
fashion
film
shopping
watching sport
Sexual preference:
opposite sex